I
sew a lot on the weekends and evenings--pretty much anytime I'm not working--so it's no surprise that Ellie wants to learn how to sew. A couple months ago I gave her some muslin on an embroidery hoop and a couple needles threaded with colorful embroidery floss. She took to it right away and spent about 30 minutes (that's a long stretch in kid time) sewing lines across the muslin.
She works on her embroidery piece every so often, adding different colors, but I think she's getting bored with it. So, I've scoured the internet to find some very simple sewing projects that she and I can do together.
Tic tac toe with felt and buttons (tutorial here)
Felt is the perfect material for kids to learn with. It's sturdy enough so kids can easily cut it, the edges don't have to be finished because they don't fray, and it comes in so many bright colors. Oh, and it's really cheap (the best part). With this project, kids learn how to sew something functional and they'll be reminded of that every time they play. Plus, wouldn't it be fun for your child to make these as gifts for their friends?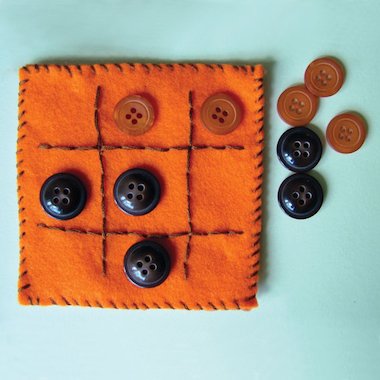 Sewing cards are kind of like dot-to-dot pictures with thread. My grandma had some old sewing cards that I used when I was a girl--they had large enough holes that a shoelace could be used (the pointed end acting in place of a needle). There are so many fun cards available online and lots of tutorials on how to make your own.
Cup Cozies (Link to tutorial and English translation available here)
Sew cup cozies for your hot chocolate using old socks and sweaters. Easy, cute, green.